"Happy"

is a 1928 Austin 7 "Chummy"

- a model AD Tourer, car no. A5-9967.

She was first registered in New Zealand in 1928 & sold, "New Zealand new", by P. H. Vickery Ltd, of Invercargill, who had become a licensed Austin dealer in 1919. Happy spent all her time in & around the Invercargill area before coming to live in Christchurch in 1999.

Sadly I can't fill in all her history but she's had a colourful past :-

"Ever since happiness heard your name, it has been running through the streets trying to find you."

Hafiz of Persia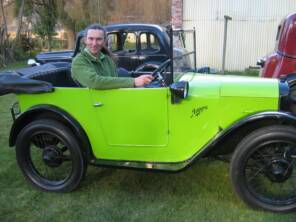 Stan Skeggs (c. age 15) bought her c. late 1950's for ₤20 - at the time she was in good condition & had her original  green with black wings colouring. Stan, a painter/panelbeater, changed her to Zenith Blue with black wings & put a "funny face" sticker on the rear window. She was frequently pushed up & down their drive by his younger brothers, Maurice & Lex. One day, c. 1959, when Maurice was 7 & being pushed down the drive, he switched her ignition on & she crash started taking off into the road. He swerved to the right & had an accident, luckily causing no damage to Maurice, leading to Stan having to get a new hood made. This escapade lead to a story in The Southland Times titled, with words to the effect of, "New Zealand's youngest driver". Coincidentally Maurice has had a business for many years called "Happy Motors."

After being sold to another vintage enthusiast in the late '60's she was resold to a Leo Sexton, also of Invercargill. Leo was, by all accounts, a colourful character himself - an Irish Catholic signwriter. He had her fully restored & allowed himself to be convinced by his spaypainter that "Torana green" (a.k.a. Barbados green) would make her stand out. Leo, showing no bias, chose orange carpet to compliment her style. His children recall doing many Riverton Rally's in her.

In 1999 she came up to live in a collection in Christchurch with 5 other assorted Austin 7's. She was trucked up, taken for a quick rally to Methven with the
Vintage Austin Register
, & then placed on blocks for the next 12 years, being turned over once a month. 
I bought her in 2011, based on a passion for Chummies since I was a wee lad, with zero experience of vintage cars mixed with an equal amount of mechanical knowledge. I put water, petrol & a new battery in her & then drove her from one side of the city to the other - quite the experience on earthquake ravaged roads - to a mechanic who immediately certified her as roadworthy. She's since travelled many miles bringing smiles to most who see her, hence me naming her "Happy" (& adding "Sexy Suzie".)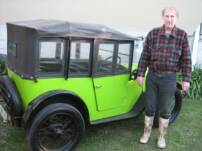 With Don, her previous owner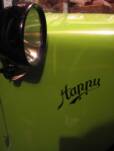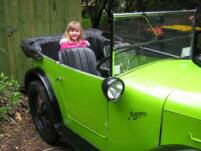 With Kaitlyn in starring role

With Antony & her big cousin, a 2nd Antony's 12/4 coupe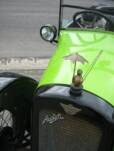 "Sexy Suzie,

the sensible duck"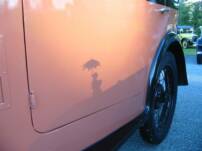 Pic entitled "Reflections of a duck"

courtesy of Wayne Stocks -

Sexy Suzie's shadow on a neighbouring A7 during the "Austins over the Plains" rally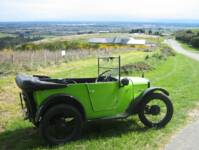 Success! - day 2 in the siege of Worsley Rd hill (which has a particularly long steep part) - after a most ignomonious retreat on day 1 involving theatrics, contortionism & borderline acrobatics. Thankfully those who witnessed day 1 shall remain nameless & hopefully didn't take photos. Pffffff who needs muscle cars when a mountain goat is needed?

Sadly the initial reason for the first assault was to stare lovingly at the Alps in the distance, day 2's success was marred by poor view. PS reverse gear was NOT used in the victory!

Happy - media star

.... a 6 minute piece filmed by Drew & Clint (videography team off one of the cruise ships)
here
on Youtube