"Aggie"

is a steel-bodied, right hand drive, 1958 Goggomobil TS400 coupe.

She has lived in N.Z. since at least the early 1970's when entertainer, Barry Keoghan, of Cambridge bought her.

Barry loved & used her for many years before she was loaned to theTe Puke Auto Barn museum for display.

Next stop Palmerston North to live with Mike & Lynn Moore (of Moore's Motors Ltd) after Lynn fell in love with her.

Mike put a lot of effort into getting her road legal again.

In 2007 she seduced Ed Boyd of Wanganui to join his Boyd's Auto Barn museum

where she proudly sat amongst quite a few other microcars.

"Kleiner pups" ('the little fart' in German) headed down here to live early in November of 2013.

She's currently having a full medical at the docs & it's hoped she'll be licensed to carry passengers in the near future.

Mechanically she's an interesting wee beastie with an air cooled, 2 stroke, 398cc rear engine

& a Getrag gearbox with an electrical preselector mounted on the dashboard.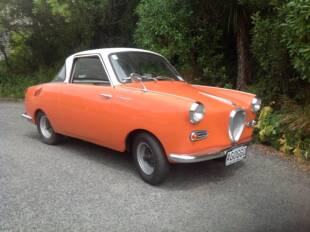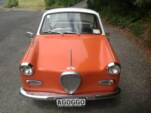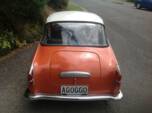 Page still under construction

"Happiness quite unshared can scarcely be called happiness; it has no taste"

Charlotte Bronte

Hire

Cars

     "Aggie"

History