Contact/bookings

Please note : bookings are essential

Phone : (03) 355-3232

Mob. : 027-460-3765 (preferable)

International : +64-3-355-3232 or +64-27-460-3765

Email : happytours@hotmail.co.nz

"A table, a chair, a bowl of fruit and a violin; what else does a man need to be happy?"

Albert Einstein

("Sorry, Mr Einstein, but you forgot the Austin 7!

...... &, come to think of it, bagpipes wouldn't be a bad addition either!")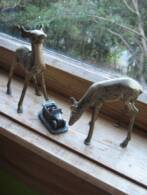 "What manner

of wee beastie

is this,

my dear?"